Chameleon offers a wide variety of security training courses and consulting services. Our clients range from Fortune 500 to small private firms, from top notch military units to independent schools. What our clients all value is our adversarial, threat-based perspective and straightforward recommendations.
WHAT WE TEACH
Chameleon teaches security tactics that are focused on preventing threats instead of just responding to them. Our aim is to continue to expand the potential of our threat mitigation solutions, delivering training, security engineering and consulting that help organizations in all business and government sectors make more knowledgeable decisions and reduce their risks.
SEMINARS
ONLINE COURSES
HOSTED TRAINING
ISRAELI SECURITY MODEL
SEMINARS
Our seminars covers topics that include security questioning, proactive threat, insider threat, Israeli security model, and much more.
HOW WE HELP
Chameleon has a unique, proactive perspective on security that infuses everything we do. Whether it's our security assessments, training and certification, security management or public speaking, clients know they are getting smart advice and pertinent information that they can use to improve security and safety.
THREAT, VULNERABILITY & RISK ASSESSMENTS
QUALITY ASSURANCE
SECURITY MANAGEMENT
PUBLIC SPEAKING
THREAT, VULNERABILITY & RISK ASSESSMENTS
THREAT, VULNERABILITY & RISK ASSESSMENTS
Chameleon Associates provides our clients with an objective, baseline assessment of existing security conditions at a given point in time. This baseline allows for clearer insight into potential vulnerabilities and loopholes that can attract crime.
WHAT CLIENTS SAY ABOUT US
If you really want to understand Homeland Security then attend Chameleons Behind the Scenes seminar in Israel. This is not a classroom based curriculum. The entire week is a hands-on exposure to security and terrorist threats in a country that knows all too well about the subject and lives every moment with the threat. If you have the desire to understand the dynamics of the Middle East and the necessary elements of security in the 21st century then you must attend this seminar. The day at Ben Gurion Airport is worth its weight in gold. When you walk away from the airport you realize that every airport in America is virtually without security. Israel has become the first and last word in security for one simple reason... necessity. You could spend years reading and studying terrorism, security, and threat assessment and not accomplish an understanding that this one seminar offers and in my opinion delivers.
Mark Furman
Consultant Fox News
Participation in the executive seminar was like spending a week in a living homeland security laboratory. Everyone in the group was astounded with the access to experts and facilities that Chameleon was able to arrange. I came home with a grasp of both the philosophy and application of Israeli counterterrorism practices beyond all expectations.
Dr. Thomas Curtis
Department of Sociology, University of Hawaii
Chameleon Associates brought a no-nonsense approach to school security that began with a full study of the school's strengths and weaknesses as it relates to security threats on or off our campus. We personally chose to work with Chameleon associates because they were the only security assessment company who were not in the business of selling us their own security solutions. Chameleon Associates specializes in one thing, to partner with the school to offer sensible and so-able security recommendations and solutions that match with school's mission and culture considering the school's practical constrains.
Vincent E. Downey
Head of School – Calvary Cristian School
Outstanding course. Provided a completely different and efficient method for providing security. It has led to a much greater understanding of the holes in our current security processes. I would much like to take additional courses by Chameleon, especially the Questioning Course.
Seminar attendee
Proactive Threat Assessment and Security Question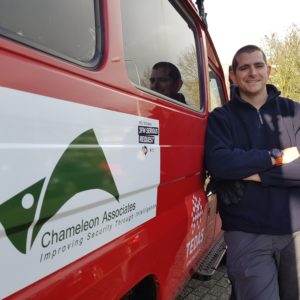 This winter, Chameleon Associates is taking a proactive stance. Rather than wait for Santa to arrive, we are going to him.       A Dutch Chameleon Associates team departs on December 8th for the Arctic Circle; the trek is in support of an International Red Cross initiative to bring together families separated by…
Read More