Principles of Proactive Security
Principles of Proactive Security brings you into the classroom from wherever you are. It is internet-based, so that you can view and learn from this 3.5 hour webcast presentation on your desktop,laptop or Ipad at your convenience and leisure. This webcast series is the perfect alternative for those unable to attend Chameleon in person training programs.

The Principles of Proactive Security class is presented by Amotz Brandes, Managing Partner of Chameleon Associates. He takes his students - and you - through an explanation of the nature of threat and how to defeat it. He explains how to build and maintain a proactive security system that is threat oriented and adversary based.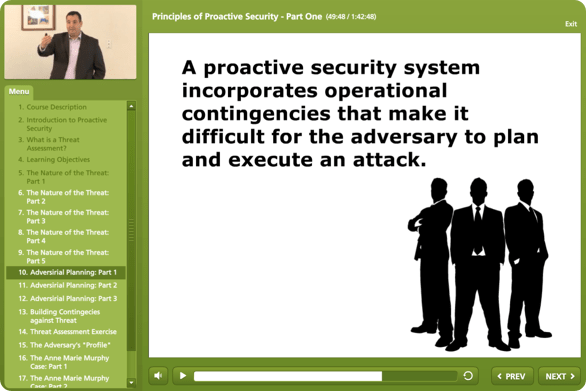 COURSE LEARNING OBJECTIVES INCLUDE:
Learn the nature of criminal and terrorist threats

Learn the difference between proactive and passive security systems
Learn about procedures and security system design that is geared towards deterrence and prevention
Learn the threat assessment process
Learn how to evaluate security from the adversary's point of view.
Via interactive classroom discussion and lecture, you will learn about:
The differences between risk and threat-based security
A security system that is proactive versus reactive
Terrorism and Criminal Capabilities
The Ann Marie Murphy case
The use of Red Teaming as a quality assurance tool
The criminal justice perspective in security
Using our classroom control panel, students can pause, stop, review or skip forward through the presentation and slides.
USER FEATURES
The Principles of Proactive Security webcast uses a variety of learning tools and resources that allow students/users to get a real feel for proactive security. These tools include:
Interaction with a live audience.
Detailed case studies.
Interface allows students to easily navigate the material.
Ability to take the course at your own pace.
Print your own certificate of completion.
A course survey.
PURCHASE AND PRICING
Customization Options
Contact us if you would like to customize this course to your organization's specific needs. Here are some customization options that we can provide:
Add or omit content to the course
Brand the course to include your own logo, theme, color and design
Add a forum were your students can discuss the topics
Create your own links to specific information you want your students to know about
System Requirements
High speed internet connection
Web browser: We recommend using Firefox or Google Chrome.
Speakers or earphones.
Comments by trainees who have taken the course:
I believe that the information included in this course will assist me in performing my duties more effectively and be a great asset for explaining how to "think out of the traditional security concept model".
Excellent course. The information in this course is very useful in my line of work. I also find this information useful as a security consultant.
Excellent course, a lot of good information to put into practice.