Surveillance Detection Online Course
What do an active shooter in Las Vegas, kidnappers in Italy, a truck bomber in Oklahoma, bank robber in New York and a sexual predator in California all have in common? Surveillance. They all conducted surveillance prior to committing their crime. Learn who conducts surveillance, how they work, the role of surveillance in crime, and how to detect and deter adversaries in order to harden the target.
Take this online course at your own pace - 1 to 1.5 hours in length.
TOPICS INCLUDE:
The critical role of Surveillance in all types of crime.
Various kinds of surveillance – by different means and modes.
Who conducts surveillance, how do they operate?
How surveillance detection assures an proactive security stance.
What to look for – Suspicion Indicators.
How to deploy against surveillance.
How Surveillance Detection hardens the target.
User Features
Chameleon Surveillance Detection Online uses a variety of learning tools and resources that allow students/users to get a real feel for the methods. These tools include:
Detailed case studies
Interface allows students to easily navigate the material
Ability to take the course at your own pace
Print your own certificate of completion
A final quiz to check learning
Administrative Features
Clients who want to manage and track their users enjoy the advanced features of our online Learning Management System. As a client who administers the course to others, you will be able to track your learners' progress and test scores.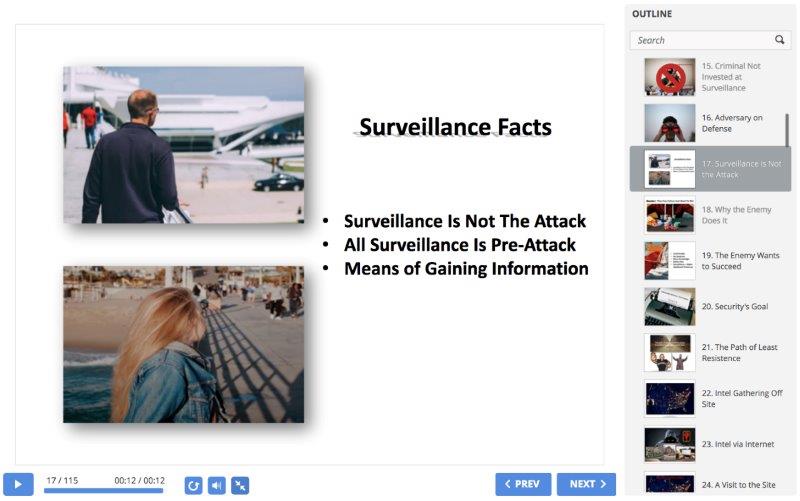 Customization Options
Contact us if you would like to customize this course to your organization's specific needs. Here are some customization options that we can provide:
Add or omit content to the course.
Brand the course to include your own logo, theme, color and design.
Add a forum where your students can discuss the topics.
Create external links to specific information you want your students to know about.
System Requirements
High speed internet connection
Web browser: We recommend using recent versions of Firefox and Google Chrome.
Speakers or earphones
Here are some of the corporate and government clients that have purchased a Chameleon online course: 
Comments by trainees who took the course:
Very user friendly, informative and highly applicable to my current Law Enforcement role. Thank you for a wonderful course!
As a law enforcement officer for 32 years and the Security Team Director at our church for 7 years I found the comparison between the roles of law enforcement and security interesting. For years I have had to be able to articulate reasonable suspicion in my law enforcement duties. I believe your description of how to relate suspicion indicators to AMO's is the best teaching I have ever received in this regard. As a supervisor and FTO I will utilize this information in my duties.
This course is very helpful and well done.  Thank you!
Interesting, professional, accurate, very useful.
Great course--great information. Really does provide more insight into how to assess risk.
As a security trainer for my company. I found this information presented in this course valuable. I will also insist that my Chief take this course as well to see if we can get our officers to take this course also.
Very useful and changed my view of a security. Concept of threat vs risk is very interesting and changed my way of thinking.