Predictive Profiling Online Course
Learn how to detect suspicious individuals and situations, and to think outside the box from the adversary's point of view. Learn a step-by-step threat assessment process in the context of the criminal or terrorist methods of operation. Course 1 to 1.5 hours long.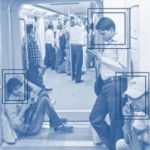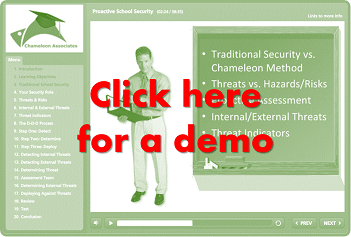 TOPICS INCLUDE:
What is Predictive Profiling?
Difference between Predictive Profiling and Racial Profiling
What makes someone or something suspicious
The human element of security
Identifying criminals and terrorists in the planning stages of the attack
Dealing with a suspicious object
The difference between odd and suspicious
Reasonable suspicion and probable cause
User Features
Chameleon Predictive Profiling Online uses a variety of learning tools and resources that allow students/users to get a real feel for the methods. These tools include:
Video simulations
Interactive exercises
Interactive quizzes and test
Detailed case studies
A detailed interactive glossary of terms
Links to supplemental articles and video clips
Interface allows students to easily navigate the material
Ability to take the course at your own pace
Print your own certificate of completion
A course survey
Administrative Features
Clients who want to manage and track their users enjoy the advanced features of our online Learning Management System. As a client who administers the course to others, you will be able to track your learners' progress and test scores and communicate with the learners through the LMS.
Pricing
# of Users

Per User Cost

Course Expires After

User Tracking & Management

1

$69

30 days

2 - 10

$59

6 months

Contact Us
(888) 343-4100

11 - 40

$49

6 months

Contact Us
(888) 343-4100

41 - 100

$39

6 months

Contact Us
(888) 343-4100

101-500

$29

6 months

Contact Us
(888) 343-4100

501 - 1000

$19

6 months

Contact Us
(888) 343-4100

1001 and more

$9

One year

Contact Us
(888) 343-4100
Customization Options
Contact us if you would like to customize this course to your organization's specific needs. Here are some customization options that we can provide:
Add or omit content to the course
Brand the course to include your own logo, theme, color and design
Add a forum where your students can discuss the topics
Create your own links to specific information you want your students to know about
System Requirements
High speed internet connection
Web browser
Speakers or earphones
Here are some of the corporate and government clients that purchased an organizational license for this course: 
Comments by trainees who took the course:
Very user friendly, informative and highly applicable to my current Law Enforcement role. Thank you for a wonderful course!
As a law enforcement officer for 32 years and the Security Team Director at our church for 7 years I found the comparison between the roles of law enforcement and security interesting. For years I have had to be able to articulate reasonable suspicion in my law enforcement duties. I believe your description of how to relate suspicion indicators to AMO's is the best teaching I have ever received in this regard. As a supervisor and FTO I will utilize this information in my duties.
This course is very helpful and well done.  Thank you!
Interesting, professional, accurate, very useful.
Great course--great information. Really does provide more insight into how to assess risk.
As a security trainer for my company. I found this information presented in this course valuable. I will also insist that my Chief take this course as well to see if we can get our officers to take this course also.
Very useful and changed my view of a security. Concept of threat vs risk is very interesting and changed my way of thinking.