DO ANY OF THESE ISSUES SOUND FAMILIAR?
Unmotivated and un-empowered officers
High turnover rate
Liability-driven, not performance-driven industry
Under trained workforce
Poor reputation in marketplace
Low pay
Officers work alone, low supervision
CHAMELEON CERTIFIED OFFICER (CCO)
The CCO program was developed by Chameleon Associates to address many problems plaguing the Security Industry.
Through a combination of online and focused in-person training, the following results can be achieved:
Instill pride and self-worth in officer
Enhance loyalty
Create a matrix for performance
Offer opportunity for self improvement
Improve tactical capabilities
Improve quality of supervision
Improve customer satisfaction
PROGRESSIVE SECURITY OFFICER CERTIFICATION LEVELS
Threat Mitigation Officer (TMO)
Tactical Security Officer (TSO)
Master Security Officer (MSO)
Chameleon Certified Trainer (CCT)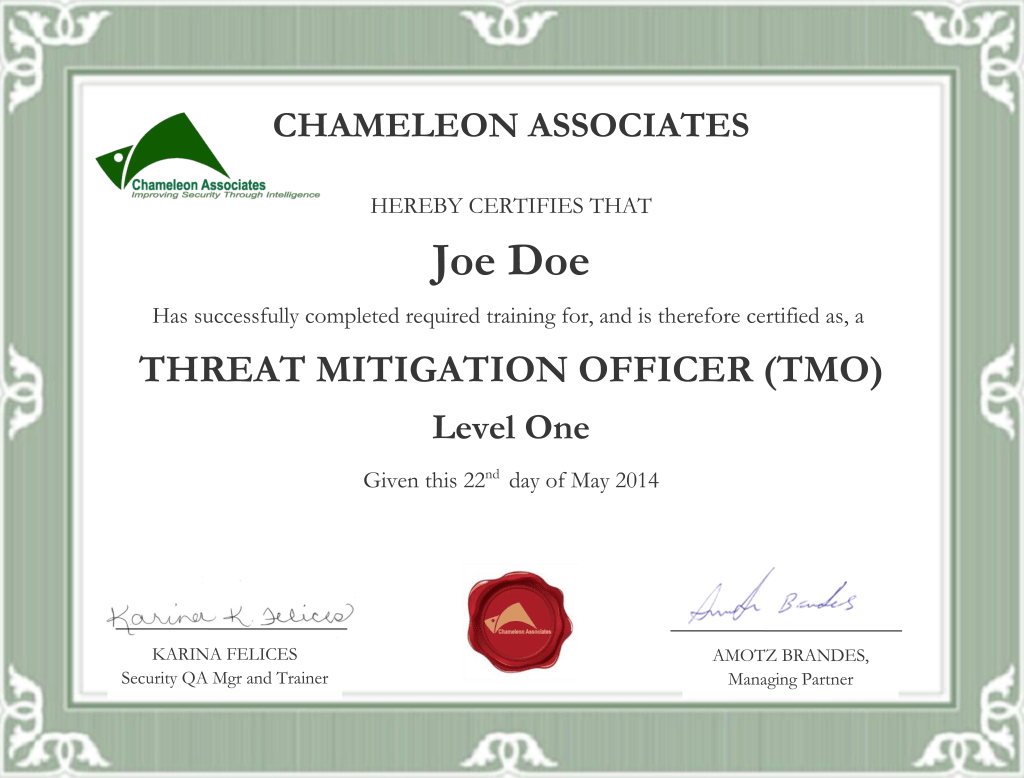 CURRICULUM
Each 8-hour training module covers topics such as Proactive Threat Assessment, Security Questioning, access control and Surveillance Detection.
If you have armed officers in place, they had better know what they are doing. For Tactical Security Officer (TSO) certification, officers get trained on tactical shooting as well as sharp edge weapons training and defensive tactics.
OFFICER SHIRT PINS
Officers who successfully complete each training stage receive a Certificate of Completion and a pin to wear with pride.
CCO DIRECTORY PORTAL
The CCO Portal allows registered users to check and track certification levels for any security officer who has participated in the training program, and to view the courses that officer has completed, grades received, letters of commendation and so on.
RELATED READING