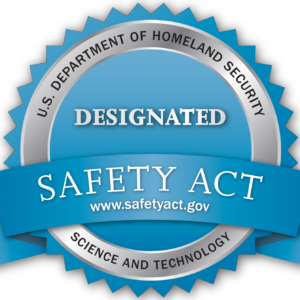 After an active shooter event or act of terrorism in the U.S., victims and their representatives often file suit against just about anyone they can.
In the case of the Las Vegas shooting by Stephen Paddock, the concert promoters, the Mandalay Bay Hotel and bump stock manufacturers were all sued.  Victims and their families of the Sandy Hook School attack in Newton, CT in 2012 sued the manufacturer of the gun used in that attack, the school district and the town of Newton.  Student survivors of the Parkland shooting have filed suit against Broward County, other state and federal agencies as well as school personnel.  Although there has been much litigation, plaintiffs often have to hit a very high bar in order to win these kinds of cases so, results vary.  But either way, and regardless of where faults lie, no one wants to be sued.
The Support Anti-Terrorism by Fostering Effective Technologies Act of 2002 known as The Safety Act came about to protect manufacturers and providers of anti-terror and security 'technologies' from litigation that could potentially stifle their ability to create successful mitigation tools.  The term technology refers not only to tech but to any security device or service that meets the guidelines set by the DHS.
"The SAFETY Act liability protections apply to a wide range of technologies, including: products, services, software and other forms of intellectual property that are designed or modified to identify, detect, deter, respond to, or otherwise mitigate the impact or harm arising from an Act of Terrorism. Protections apply only to claims arising out of, relating to, or resulting from an Act of Terrorism."
The kinds of companies currently enjoying Safety Act designation or certification include defense contractors like Boeing and Northrop Grumman, sport  teams and venues like the New York Yankees and Madison Square Garden, private protection companies including Securitas and Allied Universal, security technology for access control and explosive detection, K-9 services, and also security training and red teaming.
A key benefit of the Act is that a client who uses a Qualified Anti-terrorism Technology (QATT) is also covered.  Also, some insurers offer reduced rates for terror coverage with this certification.
The Safety Act is in the news this summer.  Last November, 450 victims brought suit against the Mandalay Bay Hotel claiming negligence for allowing Stephen Paddock to bring in guns used in the mass shooting in Las Vegas in 2017.  Over 2,500 people have filed or threatened to file suit, holding MGM responsible for deaths, injuries and emotional distress.  In July of this year, MGM Resorts (parent company to Mandalay Bay) filed a counter suit asserting no liability and asking that all claims must be dismissed, as it was using the security services of CSC – a company that is Safety Act certified.  Although the move was legal and understandable given the very high potential financial losses the hotel would face, the public response to this move put MGM in a bad light.
One of the tricky issues with the Safety Act is the definition of a terrorist attack.  Vegas police have yet to determine the motive and have not ruled the attack an act of terrorism.  It took several months for an attack perpetrated by Hesham Mohamed Hadayet that occurred at Los Angeles International Airport on July 4th 2002 at the El Al Israeli airlines ticket counter to be deemed by the FBI and Justice Department an act of terrorism.  This despite that all indicators pointed towards terrorism from the get go.
It is easy to understand that victims of violence seek resolution and compensation.  The question is who pays?  In the case of 9/11, the U.S. government stepped in to take responsibility for compensating victims of that terrorist act.  $10 billion in claims have been paid to date.
As for liability, there has been a shift over the past decades.  In the case of the 1995 Oklahoma City attack and the 1993 World Trade Center bombing, courts declined suits that were filed against fertilizer manufacturers saying they could not have predicted their product would be used to product terrorist bombs.  On the other hand, in a suit brought against the Port Authority of NY and NJ, the court held that that agency did bear much of the liability; that the attack would not have occurred were there better security in place.  In its defense, the Port Authority asserted Sovereign Immunity, something that your average corporation can not fall back on.   Since 9/11, the liability has shifted to being more punitive towards owners and operators.  Although even so, would it have been reasonable to sue the flight school that helped prepare Mohamed Atta and Marwan al-Shehhi, for their flight into the WTC North Tower?
None of us is psychic but there is a difference between foresight and being prepared for events based on risk analysis.  Today's legal measure for businesses seems to be whether reasonable security is in place to mitigate and deter an attack.  One would think that businesses that turn to the Safety Act for legal protection are at least, at the same time, bringing their security up to a higher than average standard.  Given that currently there are no regulations in effect for private security, is a company's taking action in order to get QATT certified better than nothing?  Obviously, victims of the Las Vegas attack would say no.
Chameleon has had clients who refrain from taking steps to enhance security out of fear that doing so would actually expose them to more liability – that having made a such an effort, they would be more directly to blame were security to fail.  Many years ago, we had given a proposal to a Las Vegas hotel for training on how to conduct proactive screening vis-à-vis concealment methods for infiltration of explosives and weapons.  Although the scope was accepted by the security department, the hotel's legal counsel rejected the project.  The explanation was that they had to avoid extra training beyond what is given by the x-ray machine manufacturer, in order to avoid liability.  At other times, clients have hired us because they claim doing so would help them avoid liability.  Liability crops up as a reason on both sides of the argument.
One would think the very best motivation for security training and safety improvement would be a desire for more robust security, period.  Alas.