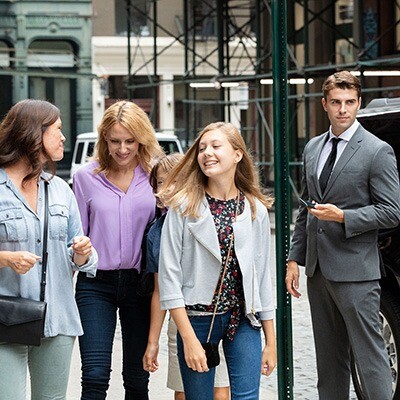 Bodyguards are associated with VIPs, celebrities, politicians.  There's a mystique around body guards - blockbuster movies are made about them. Having one marks you as special.  But starting in 2020, we can now all be special.  Ordering a body guard is as easy as ordering food delivery or scheduling an Uber.
The aptly named app 'Bond' was developed by entrepreneur Doron Kempel and began as a 24/7 preventative security platform that connects users to a command center that will track a customer's movements, do security checkins or send a car.  It's designed to give folks that extra sense of support and security as they walk alone at night, meet strangers for business, worry about elderly parents or unsupervised kids.
Some might say that this service is over-reaching and that there isn't a market for personal protection on this level.  Yet, a recent Harris Poll found that 47% believe public safety will be worse in the last quarter of 2020 and a YouGov survey found that 55% of registered voters believes violence will be on the rise post election.  Bond already has 150,000 users.
The bodyguard service introduced last month takes security to a new level.  As CEO Kempel puts it: "By enabling Bond members to order a bodyguard as easily as they might order dinner online, we've extended the range of preventative personal security services that Americans can affordably access via the Bond app." Bond clients can request a bodyguard to accompany them as they work through their day, securely transport family members or be around for a night out.  One Manhattan real estate agent books a bodyguard because her job has her meeting clients - strangers - to show property at sites across the city.  Another client cites an increase in crime in her neighborhood that just makes her very nervous; she feels secure and better able to function having the bodyguard near by.
The Bond bodyguards are former law enforcement, military, Secret Service or other security professionals.  They can be armed or unarmed - the client decides.  The Bond Command Center coordinates and oversees all assignments.
How much does it cost to get your own personal bodyguard? You can book by the half hour at thirty dollars for thirty minutes, on demand.
Some users might try such a service for its novelty.  Others may enjoy the attention having a guy in a dark suit following them around brings.  But some folks may find they are truly apprehensive or anxious but that their situation in no way warrants a call to 911.  If someone can afford the service because it's on demand and the fee structure is incremental, and it relieves their stress, who can argue with that?