New CCTV Operator Training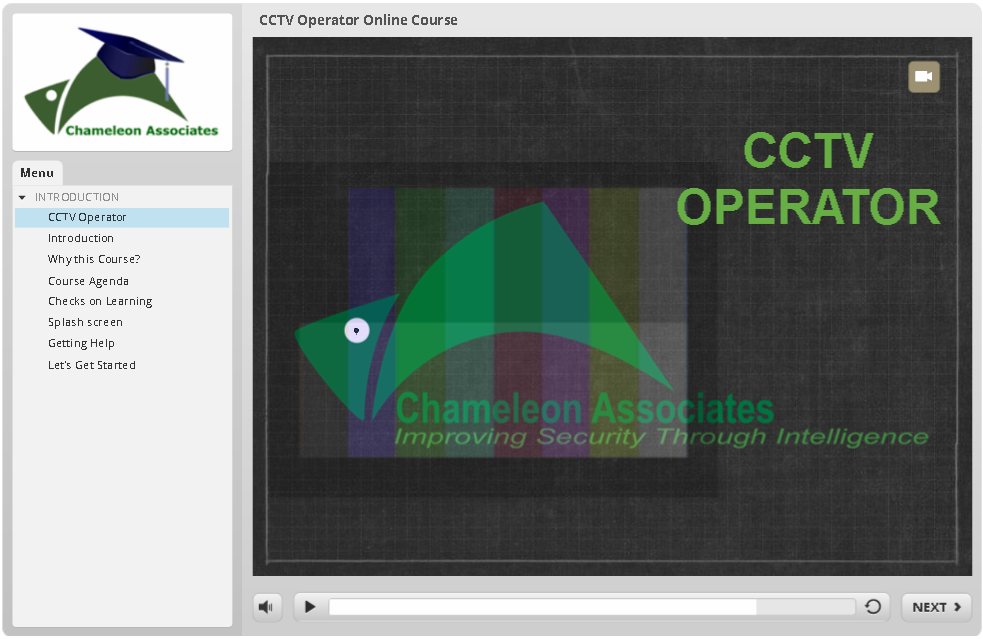 CCTV today is ubiquitous, so many businesses and municipalities (and homeowners) use cameras; they are everywhere.  But when it comes to CCTV training, it's almost always around learning to use the equipment itself.  The training that exists is such as a camera system manufacturer might provide.  This is fine, but absent training on how to integrate CCTV with an overall security program, with a security mission and a security team … usage of the most expensive or extensive CCTV system will fall short of the mark.
A different kind of training is required in order to effectively integrate the CCTV system with the rest of the security measures an entity has in place.  There is no way CCTV operations can hope to be proactive against threats without this unique kind of training.  This is why Chameleon has developed a new online CCTV course that takes the in-person curriculum we provide to Command Center personnel and puts it in an eLearning package that anyone can easily access from any computer or tablet.
The course covers a wide range of topics, from CCTV history and usage, to changes in the industry, from how to leverage CCTV to be proactive to the best protocols for effective communications, from coordinating CCTV efforts with law enforcement and responders to the many challenges Operators face and how to beat them.
Indeed, the role of the CCTV operator is not as easy or straight forward as some might think.  There are demands that not only have to do with knowing what to look for but also having to do with focus and attention.  Faltering attention is an inevitable consequence of a job that involves looking at multiple monitor screens for the duration of a full shift.  There are ways to combat this.
Every environment is a bit different in terms of the threats it faces, obviously.  But this also means that what constitutes appropriate security measures vis-à-vis CCTV operations also differs from place to place.  One size does not fit all.  Understanding the bigger picture and thinking in terms of adversarial threats is the way a CCTV Operation can create the best security program possible.  This online course includes interactive exercises that help CCTV Operators hone in on threats and the suspicion indicators they need to be looking for on their monitor screens.
There are good reasons why law enforcement and military use standardized language to communicate critical information.  Communication is equally important for a CCTV Operator.  Knowing exactly what to say and how to say it is a basic skill set that the course covers.  An accurate, clear and concise description of a situation or individual can make a big difference.  CCTV is meant to be the eyes and at times of an operation, expanding security out to sensitive perimeters.  In those instances where there is coordination with and support of other security and law enforcement in the field, an Operator has an important role to play and should be prepared to do so.
Maximizing the possibilities of CCTV while fully understanding its limitations results in an intelligent and realistic balance in its use.
This is the kind of CCTV security training that is needed and we believe Chameleon's new CCTV Online Training fills the void.  Please link here for more information, to view a brief demo and, to purchase a course.