Covid-19 Impact on Security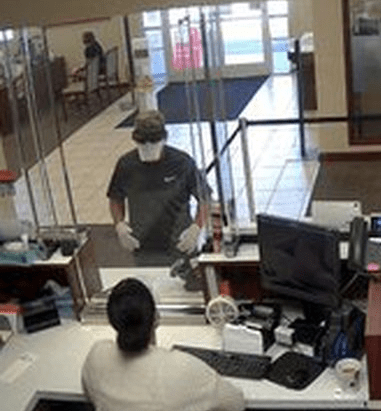 The challenges of Covid have touched nearly every aspect of our global lives – if and how we socialize, finances, schooling, work conditions and travel.  New security threats particular related to Covid crime include cyber schemes to get money for fake charities or phishing for data disguised as government benefits agencies or IRS stimulus package agents.  We also see an increase in price gouging especially for those items whose popularity has spiked with Covid.  As home package delivery is up (Amazon earnings doubled in 2nd Quarter 2020), so too package theft has increased.
Overall, crime in many cities across the U.S. is down.  Drug crimes have decreased 63% compared to the past five years. Property crime is down 19%, and violent crime dropped 15%.  Los Angeles reports that while burglaries have dropped 10%, retail theft has increased by 67%.
Covid Crime
Normally banks  prohibit customers from entering their facilities wearing anything that hides a customer's face be it dark glasses, a hoodie or face mask.  Now, however, the American Bankers Association is recommending that its members require customers to wear face masks. "We owe it to front-line bank staff to prioritize their safety and to contribute to the wider effort to limit the spread of this infection," said Rob Nichols, the group's president and chief executive.
But universal mask wearing is causing special problems:
A man walked into a Houston bank last month wearing a bandanna over his face. He gave the teller a note that read "I didn't get a stimulus or that 10K loan.  I lost my business to Covid so please make this easy and comply…"
Another would-be robber in Florida entered a Wells Fargo branch in Orlando wearing sunglasses, white gloves and a white cone-like mask over his face. He approached a teller's window demanding money, but the employee had trouble understanding what he was saying through the mask. After repeating himself several times, he left frustrated and empty-handed. (He was later apprehended via CCTV footage from neighboring businesses.)
One loss prevention manager related to me how hard it has been to investigate and pursue a theft when the suspected perpetrator was not only in a hoodie and wearing dark glasses, but also in a mask.  It's exponentially easier for a masked thief to hide when literally everyone is (or is supposed to be) wearing a mask.  Covid crime is a serious challenge for Loss Prevention these days.
Covid Crime Impact on Security Officers
Our clients who deploy security officers, whether they be third-party or in-house, also are dealing with how Covid has impacted their security efforts.  I spoke to a Security Manager at a client location who reported the following issues:
Security officers on foot patrol, walking in the summer heat wearing masks find that it's a bit harder to breathe and as a result, they fatigue quicker.  This translates to less patrolling or shifting to stationary positions, and to taking longer breaks.
Some security officers are apprehensive about engaging and approaching people for fear of getting sick.  This apprehension lowers their confidence.  The end result is less assertive and more passive attitudes.
In some locations, security officers have been tasked with monitoring whether customers are wearing masks and maintaining social distance.  Although one might argue that by default this ups an officer's awareness of the people landscape and behavior (a good thing) it can also cut into other security duties and responsibilities.  It can be a distraction.
Covid has most of us stressed out and that stress has its own impact.  Let's just say that these days, some folks are not on their best behavior.  As a result, some security officers are now tasked with calming nerves, mediating arguments and breaking up fights.  The average security officer is most likely not trained on de-escalation techniques.
Until Covid is behind us, we need to work on increasing security awareness, learn to acclimate to these restrictions and to make sure training is up to date.