Frequently Asked Questions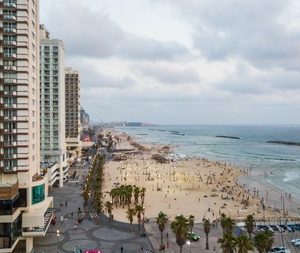 What are the accommodations like?
You will have your own single room at this five-star hotel overlooking the beach in Tel Aviv. Centrally located, the hotel has full business services, an indoor and an outdoor pool, two restaurants, spa and sauna, concierge. A sumptuous Israeli style breakfast is included daily.
How can I guarantee I get a spot?
You can save a spot by putting down a deposit of $1,000. Contact the office directly by email to info@chameleonassociates.com or by phone +1 (818) 713-8448.
Is Israel safe?
Despite media hype, Israel is a comparatively low crime country. The U.S. Department of State Overseas Security Advisory Council notes: "Every year, thousands of U.S. citizens visit Israel for study, tourism, and business without incident." Some fraught areas obviously have been struck by terror attacks in the past, although tourists are not targets. For added peace of mind, an armed security person accompanies the group throughout the week.
Can I bring a weapon?
No.
Justification
Security professionals are often challenged to justify the ROI and budget for the Security department, a non-revenue producing cost center. The proactive methods taught in the seminar help mitigate threats which if unchecked can wreak havoc on a company or agency's reputation in the marketplace, operational resiliency, compliance, and other factors all of which impact the bottom line.
What does the price include?
Much is included in the registration fee making the seminar a solid value:
Accommodations at a five-star hotel
All training and presentations
Luxury bus for ground transit during the seminar
Daily breakfast and lunch, plus two dinners
Entrance fees to sites where applicable
Full time armed security officer moving with the group
Presentation materials and Chameleon e-Learning courses
Do I need a VISA?
Most countries (US, Canada, Mexico, the EU) do not require a VISA to visit Israel. Best to confirm with an Israeli Diplomatic Mission in your area if you have questions.
Passport considerations
Your passport must be valid for at least six months from the date you depart/return from Israel.