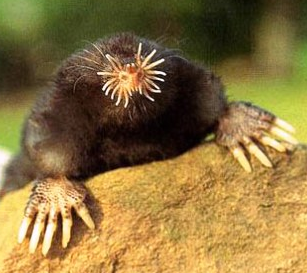 The Condylura Cristata (commonly known as the star nosed mole) is a species of mole whose claim to fame is the weird looking multi sensors on its nose. These extremely sensitive nasal tentacles allow it to decode sensory information at the speed of neurons. This mole's super sensory ability was the inspiration for the name of a new and unique screening technology that debuted this year and is expected to launch in the first quarter of 2014.
The Qylatron is a self service security screening kiosk (see picture below) that does three unique things: it allows people to conduct their own screening of bags and possessions, independent of intervention from security officers. This makes screening go faster and what's more, the system requires less personnel than conventional screening methods. Secondly, it employs multiple technologies that together discern whether a physical threat is present. Last but certainly not least, the machine learns. According to the company website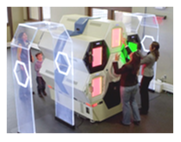 , the "sensor fusion uses a hybrid of artificial intelligence methods and expert knowledge algorithms to achieve results that far exceed standard security screening systems, at considerably lower personnel and operational expense." The claim is that the machine looks at 200 different parameters using what I assume is a combination of x-ray, chemical sensors and other sniffing technologies. Because the system is meant to be regularly serviced and upgraded (a smart business model) it can stay ahead of the game in terms of current and predicted, viable threats and in that way, be proactive.
The Qylatron machine has been tested in multiple markets for various scenarios: at an airport in Rio de Janeiro, at Lincoln Center in New York City, and at Liberty State Park across from the Statue of Liberty. The company has gotten a Support Anti-Terrorist by Fostering Technologies (SAFETY) Act designation from the DHS, and has completed detection validation by ICTS.
It sounds almost too good to be true… Is this a panacea for the hassle and questionable effectiveness of our current screening systems? Is it a business venture that leverages our fear of the threat and our frustration about security? What do you think?