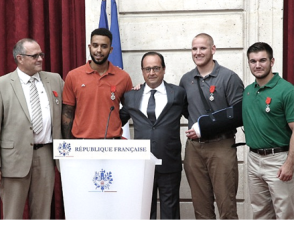 Anthony Sadler, one of the heroes who helped bring down a terrorist attack on a Thalys train traveling from Amsterdam to Paris, had the following advice for anyone who might find themselves under a similar attack:
"To do something. Hiding or sitting back is not going to accomplish anything. And the gunman would have been successful if my friend Spencer hadn't gotten up."
Vacationing U.S. soldiers Spencer Stone and Alek Skarlatos ran at and wrestled Ayoub El Khazzani down to the ground, disarming him of a gun and knife. His AK47 had been grappled from him moments earlier by another passenger who was shot in the process.
Other people jumped into action. One of them, French actor Jean-Hugues Anglade, ran to break the alarm, shattering glass with his fist to do so. After the attack, he denounced train staff for running away, hiding in a service area to which they denied passengers entry. Thalys is investigating.
Meanwhile, British IT consultant Chris Norman also helped subdue the attacker. Norman's message to people is "that if it does happen to you, be aware that there is a possibility to act. Don't act completely rashly but, when the opportunity arises, for God's sake jump in there." He added in his statement that times have changed as whereas traditionally, we were taught to not intervene.
We are not all trained soldiers whose reflexes have been honed to react in a flash. But that these men took the offensive was key to their success. An assertive approach that turns the attacker to defense is the only way to succeed. European leaders have made a big deal out of the heroic turn of events, perhaps in an effort to send the message out that citizens need to adopt a more aggressive approach?
Today, French President Francois Hollande bestowed the Legion Legion d'Honneur on these heroes, saying "You averted what could have been a true carnage. Your heroism should be an example and a source of inspiration for everyone. You behaved like soldiers but also as men, responsible men … They showed us what can be done"