TRV ASSESSMENT BASED ON THE ISRAELI MODEL
THREAT, RISK & VULNERABILITY ASSESSMENTS SEMINAR
June 12 -13, 2018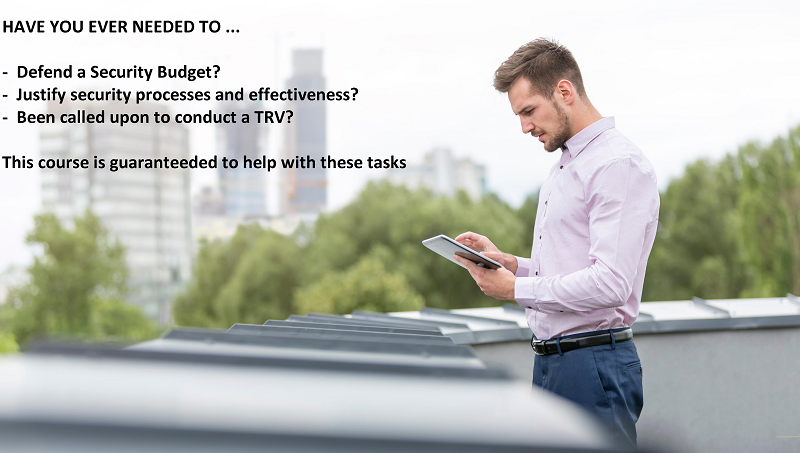 LOCATION: DoubleTree by Hilton Los Angeles Westside              FEE: $595 Government;  $695 Corporate
ONLINE REGISTRATION > LINK HERE              FAX REGISTRATION > LINK HERE
This two-day course is designed for security professionals, managers, directors and for security consultants.  In the world of security, Israel has been at the forefront dealing with a variety of criminal and terrorist threats.  Israeli companies and government entities have been obliged to develop methods for countering internal and external threats and to create security systems that are well balanced between procedures, people and technology.  This balance requires that the security systems in place are constantly evaluated threats, risks and vulnerabilities.
In this course you will learn how in the Israeli approach to security, technology, people, processes and skills and physical security are assessed first and foremost from the adversary's point of view.
Seminar attendees will gain tools and perspectives on how to evaluate their own security systems with an adversarial focus.  Here are some of the security elements that will be covered:
Defining statistical risk, risk populations and risk based on consequences to intangible and tangible assets
Mapping adversarial methods of operation
Threat perception of the organization and defining adversarial capabilities
Physical security assessment
Prevention capabilities of the security system
Assessing influences factors on security: budget, marketability, liability and adversary
Assessing skills and procedural gaps of security and non-security personnel
Evaluating insider threat prevention capabilities
Assessing tactical response capabilities
Quality assurance and red teaming practices
Trainees will be provided the critical tools for conducting TRVs within their own organizations or for their own clients.  These include:
The step-by-step process for TRV assessment
Interviewing skills for finding skill gaps
Methods for evaluating procedural gaps
Approaches for creating buy-in for security
Managing expectations from the C-Suite to the customers for security
How to present findings and make successful recommendations
Learn the skills and knowledge required to be an effective security evaluator/consultant
WHO SHOULD ATTEND?
security professionals, managers, directors and for security consultants can all benefit from this course.
PRESENTERS AND TRAINERS
Chameleon trainers have a rich background in the application and design of security protocols and technology for threat mitigation.
Amotz Brandes – Managing Partner, Chameleon Associates

Mr. Brandes began his career in the Israeli Defense Forces as a Staff Sergeant in a Special Forces Reconnaissance Unit.  During his military service he led recon and intelligence gathering teams on complex operations against Hezbollah and other terrorist organizations. His leadership role and performance earned him a special commendation.
Upon completing his military service, Mr. Brandes moved to Los Angeles where he joined El Al Airlines Security a division of Israel's General Security Services (Shin Bet). In this role as a profiler he fulfilled varies security duties at the Israeli Consulate in Los Angeles and El-Al's operations at Los Angeles Airport and in North America.
Mr. Brandes joined Chameleon Associates in 2002 where he established its Training and Consulting Department.  In the wake of 9/11, the need for, and interest in counter‐terrorism and aviation security expertise spiked. Mr. Brandes developed training programs in security engineering, Predictive Profiling, situational threat assessment and insider threat prevention. Clients for these programs have included private companies, government agencies, military, not‐for‐profit organizations and security companies.
Mr. Brandes has conducted dozens of Threat Risk and Vulnerability Assessment to clients all over the world. he managed TRV projects for government buildings and complexes, airports and mass transit centers, retail centers, schools, high-net-worth individuals and public figures, manufacturing facilities, museums and more.
Mr. Brandes has developed and delivered training programs attended by thousands of students around the world. He also has developed customized and Train the Trainer curriculum relating to behavioral observation and situational assessment for a wide range of US based and international clients.
In 2009, Mr. Brandes created the Predictive Profiling and Security Questioning Online Courses, interactive courses that introduces students to concepts of threat, suspicion, risk, situational assessment and security questioning.
Mr. Brandes obtained his B.A. Degree in International Development Studies from University of California at Los Angeles. He is fluent in English, Hebrew.
TAKE HOME MATERIAL
Seminar attendees will receive a hard copy of the seminar multimedia presentation.