The Line that Separates Terrorism from Insurgency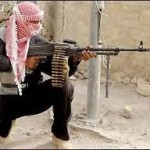 Sometimes it seems the distinction between counter-terrorism and counter-insurgency gets blurred. After all, if the war on terror is global, what's the difference if it's being fought over here or, over there? Indeed, the main issue distinguishing these efforts is where the enemy is operating. In terrorism, they are working within your environment. With insurgents, you are fighting them in theirs.
Timelines for withdrawal aside, the Petraeus COIN doctrine spells out neatly the strategies to win a battle that go well beyond firepower to political, diplomatic, psychological, economic and social concerns – a war of hearts, minds and pockets. Alas, with few exceptions, most counter insurgencies fail. Absent brutal broad strokes that decimate a population beyond the insurgents themselves (the U.S. versus native Americans, or vs. the Philippines at the turn of the 20th century), insurgency is a real challenge to counter. How many such campaigns can you count that have succeeded?
Although some would put them under the same wide umbrella, terrorism and insurgency are fundamentally different. While both terrorize, operationally they deal with different considerations and even immediate objectives. Here are a couple of ways they differ:
To commit a successful terrorist attack usually takes 1-5 years to plan; to commit a successful insurgent attack could take only hours to plan, even less.
Insurgents usually operate in larger, sectarian or tribal groups; terrorists – even if they belong to a large terrorist operation – their operational units are small.
Depending on their capabilities, insurgents use military guerilla tactics; terrorists maneuver more like an intelligence operative does: infiltration, recruitment, using covers, etc.
In modern times, and especially against democratic regimes like the U.S. and the West, insurgents find terrorism an attractive means of obtaining their political objectives. The Madrid train bombings in 2004 are a good example of how a terrorist attack succeeded in removing a country from its territory. That would not have occurred if a Spanish soldier(s) had been assassinated in Iraq.
In counter-terrorism, the adversary is the odd man out. In counter-insurgency, it is the target (soldier) that deviates from the norm. In some geographic locations, activities swing between counter-insurgency and counter-terrorism. When the military protects its own bases in Afghanistan, it is conducting counter-terrorism. But when that military moves to the streets of Kabul, it is engaging in counter-insurgency. Of course, on the periphery of the base and the outskirts of Kabul, what is being countered is less clear.