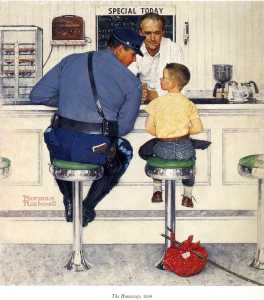 Community policing is essentially about developing positive relationships and trust with the community law enforcement is tasked to protect. It is built on having an intimate knowledge of the environment – a given community's culture and politics, typical behaviors, communication styles and personal concerns. Community policing intersects clearly with threat-oriented security, another area where it is essential to understand the 'indicators.' Being sufficiently familiar with an environment is what allows us to identify when something is 'off'. An intimate knowledge of a security environment also makes it easier to predict and prevent potential threats from escalating into criminal events.
It seems that every month another U.S. city erupts in protest and riots around an incident of police misconduct, most recently in Baltimore. Staten Island, NY, Ferguson, MO, Cleveland, OH and North Charleston, SC are among other places where clashes between law enforcement and citizens have made headlines. The Cato Institute statistics for 2010 (most recent available) show 4,861 reports of misconduct of which excessive force was the leading complaint. 247 fatalities were associated with the reports of misconduct for that year. The relationship between police in countless communities across the U.S. is currently rigid and tense. What to do?
One example of successful community policing was highlighted in an interview Katie Couric conducted earlier this year with Richmond, California Police Chief Chris Magnus.
In 2004, Richmond was ranked the nation's 12th most dangerous city. In 2005, the City Council requested a state of emergency and the intervention of the Highway Patrol and Contra Costa County Sheriff. The city was in crisis. Violent crime, auto theft and gang warfare were a way of life. Yet by 2013, the city's homicide total was its lowest in 33 years and total reported crimes were 40% lower than ten years prior. This trend reflects a general overall reduction in serious crime in many cities across the nation, but Richmond surely is the poster child for how to do community policing right.
Chief Magnus summed up his policy as 'All lives matter. That's really what community policing should be about.'
A combination of factors have contributed to the improvement including:
Geographic policing with officers assigned to specific beats
Office of Neighborhood Safety – paying those most likely to be involved in crime, not to.
Operation Ceasefire – volunteer campaign that gives former gang members and violent offenders job training and counseling.
An infusion of young officers into the force
Data-driven resource deployment
Peace Walks community night marches to show united front against violence
The successful responses to the problem all involve knowing what's really going on, understanding both the adversaries and the vulnerabilities of the community, finding ways to harden the target – in this case through shared intelligence and making crime less (socially) profitable.
To hear more about this case, watch the Couric interview here: